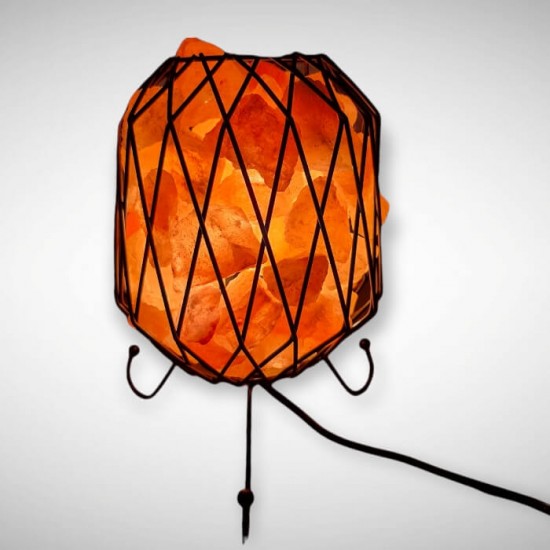 Out Of Stock
Industrial style Himalayan salt lamp MESH 3.5kg
Exclusive design industrial style lamp with natural Himalayan salt chunks MESH. An outstanding hand made product, made in Latvia!
The best you can get from nature for your health and well-being!
Includes power cord and light bulb. Lamp weight 3.5-4kg, suitable for rooms with an area of ​​up to 24 square meters.

The salt lamp absorbs the moisture in the room and, when heated, releases the moisture together with the salt ions back into the room, creating healthy, ionized and clean air. Relieves air of dust and allergens. It is recommended to place the salt lamp next to the computer equipment and the TV, because in this way the not too healthy electromagnetic radiation is neutralized. The use of a salt lamp also reduces the spread of microbes and mold in the room. Improves mood and sleep quality.

Use every day when you are at home. Can be used as a night light. If the lamp starts to flow, it must be used while it is dry and then the excess salt must be wiped off the lamp. Use frequently in wet weather. If you do not use the lamp for a long time, remove the bulb, unplug it, and place the lamp in a plastic bag and place it in a dry place. Do not leave a lit lamp when you are away from home. Light bulb 15W E14

Price per lamp.
THE TOTAL WEIGHT OF THE GOODS HAS BEEN ADJUSTED ACCORDING TO THE DELIVERY CHARGE. Real lamp weight ~ 4.5kg
Stock:

Out Of Stock

Model:

SALT03

Weight:

22.70kg
Price disclaimer
The specified discount is valid only for individuals. Legal entities purchase a product without a discount.
Legal entities can buy the product in bulk with discount.