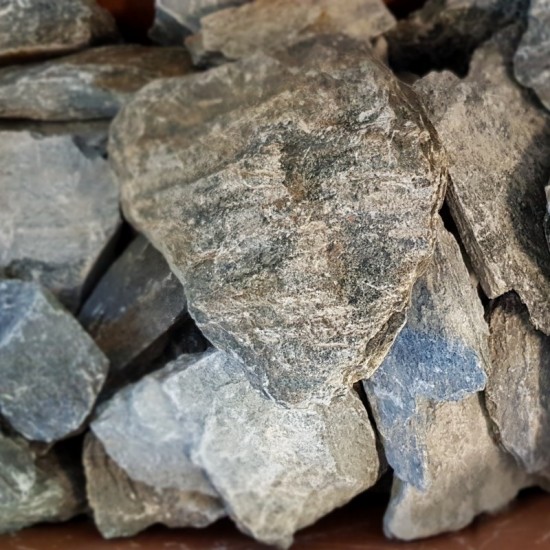 Hot -14 % Out Of Stock
Talkohlorite crushed (20kg)
!!! СУПЕР ЦЕНА !!!
Талькохлорит – горная порода метаморфического происхождения. Используется в качестве огнеупорного материала в печах с температурой 1200⁰С - 1600⁰С, существенно превышающих максимальную температуру в каменке. Массовая доля талька 40-50%, магнезита 40-50%, примеси (хлорит, серпентин) составляют 5-8%.
Талокохлорит формировался в условиях термических нагрузок и высокого давления, поэтому он выдерживает более 500 циклов «огонь-вода», не трескаясь и не разрушаясь. Накопленное тепло отдаёт долго и равномерно. Талькохлорит экологически чистый камень, из него изготавливается посуда для приготовления и подачи пищи. Изделия из талькохлорита хорошо сохраняют как тепло, так и холод.
Исследования показали, что длины волн теплового излучения человека и талькохлорита совпадают, поэтому излучение от камня кажется бархотно-мягким и расслабляющим. Также излучение нагретого камня стимулирует выработку в человеческом организме витамина Д, который необходим для укрепления костных тканей и повышения иммунитета человека. Талькохлорит способствует лечению простудных заболеваний верхних дыхательных путей.
Основные физические характеристики:
Цвет белый, серый до чёрного
Плотность 2980 кг/м3
Удельная теплоёмкость 0,98 кДж/кг*⁰С
Прочность при сжатии 100-450 МПа
Коэффициент теплового расширения 10(10-6/К)
Цена за упаковку 20 кг. Фракция камней от +60 мм до 150 мм!
Stock:

Out Of Stock

Model:

TalkSk

Weight:

20.50kg
Price disclaimer
The specified discount is valid only for individuals. Legal entities purchase a product without a discount.
Legal entities can buy the product in bulk with discount.